Well this weekend was spent treking out to the Dogs SA grounds to spectate at dog shows they had on over the weekend - the main reason being Kenzie's breeder was over for the weekend on the way back over West from the BC Nationals. So I got to meet and have cuddles with Luc, Jules (Kenzie's sister), Trixx, Portia, Billy, Jodi (and non-BC Mia) - as well as catch up with Robyn of course. Will post some of my photos later in this post.
We have certainly had a really busy weekend. I was impressed with the way Kenzie behaved with all the people around and didn't act to stressy or under confident. She had a lovely game with another BC Striker as well as wanting to play with Luc and Trixx. I am sure Kenzie is secretly wishing that I bought one or other of them home as a toy for her :).
She was so funny this morning when we got to the show grounds and wanted to jump out and go say hi before I had put her lead on. She was also approaching people and flirting with the boys hahaha :). Both girls endured a bath on Friday evening so they were nice and clean - short lived but at least Robyn could see I do actually look after them hehehe.
I also met the breeder of Kenzie's father at the show yesterday too - Michelle Gardner from Torobeam. She had remembered my email when I was inquiring about information regarding Spinna. Apparently Kenzie's dad now has his Japanese Show title - or something like that :).
It was lovely to meet Jules and she gave me great cuddles yesterday. Its funny as I think she is slightly quieter then Kenzie but they are pretty much the same size. Robyn and Michelle both aren't sure who Kenzie looks like as Robyn doesn't think she looks like Marnie (whereas Jules does) and Michelle didn't think she looked like anything of the Torobeam stuff.
I weighed her today and she is spot on 13 kg. She has dropped a bit but Robyn said not to stress about it she won't starve herself and unlike her sister who is in need of a constant diet Kenzie might just be one of these that self regulate. Apparently Tag is similar and maintains a constant weight and goes on a self imposed diet if Robyn tries to fatten him up.
Any way now for some photos :)
First up a photo of Kenzie waiting patiently while I took photos of the BCs in the ring.
Next up some of the Winpara clan:
Jules (Winpara Mint Julep)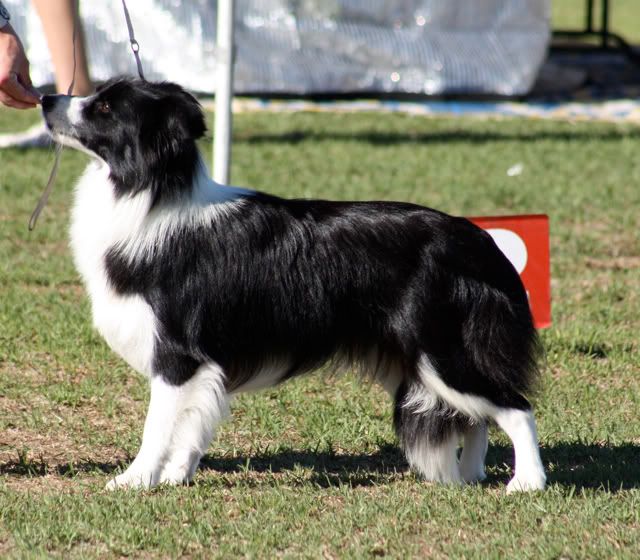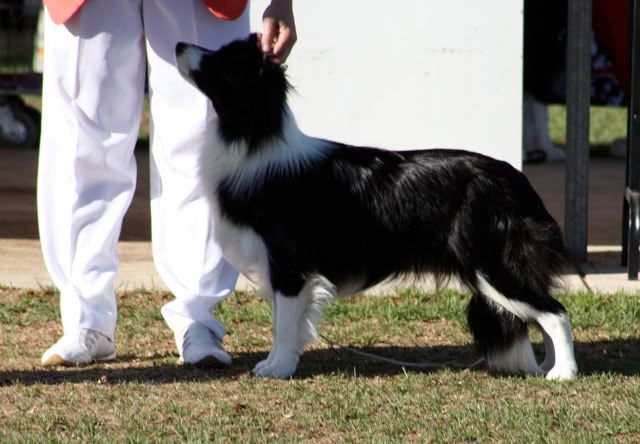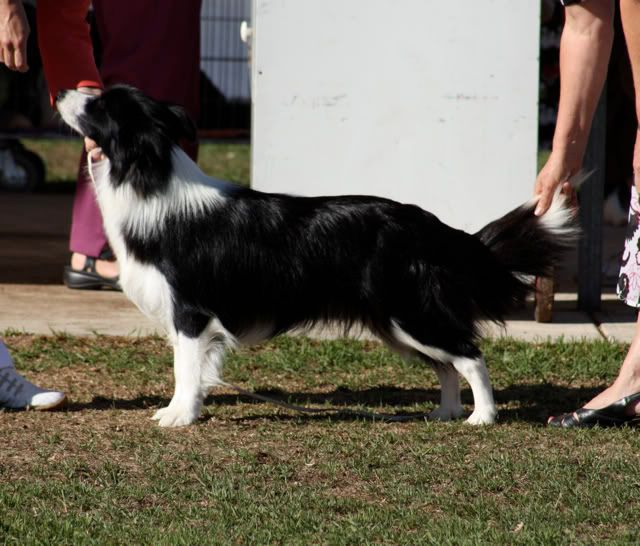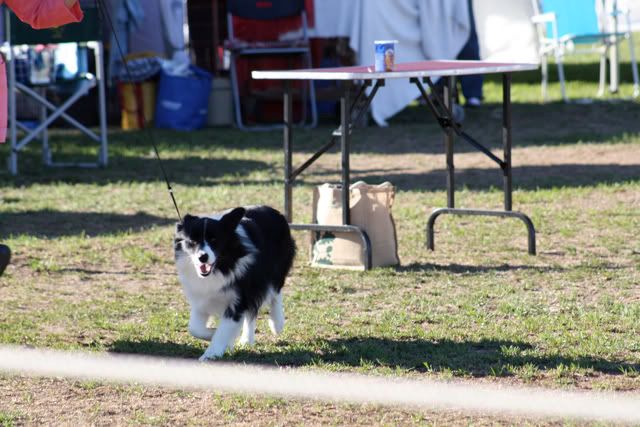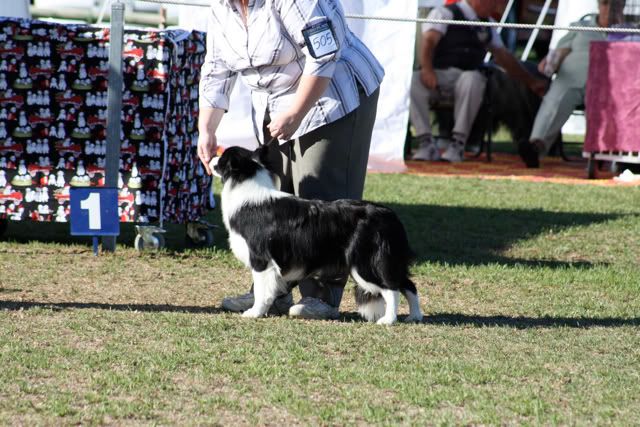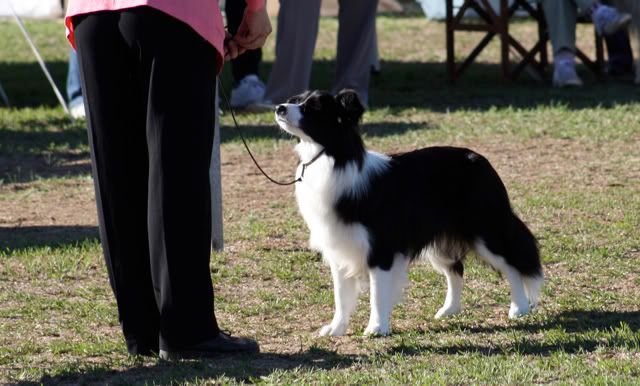 Jodi: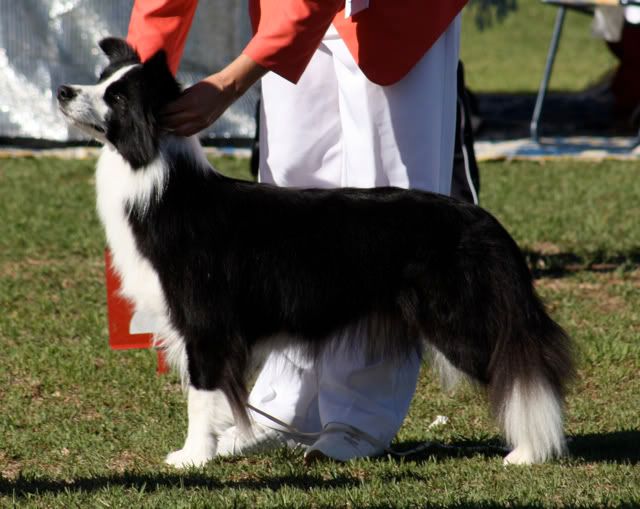 Trixx: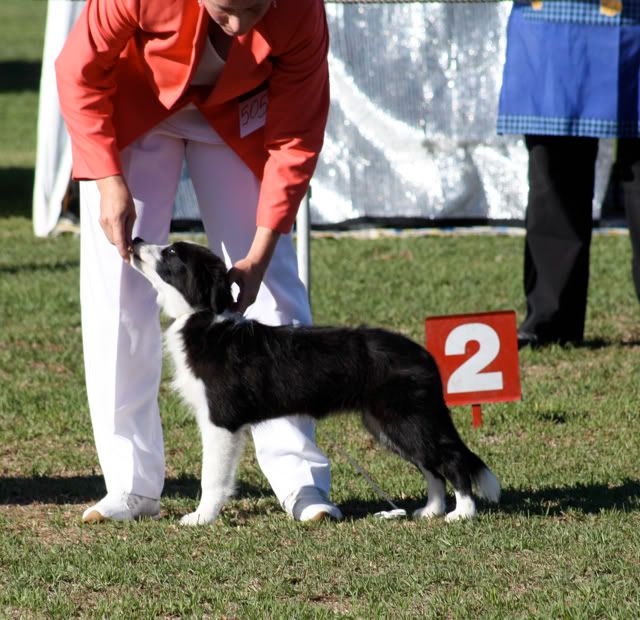 Luc: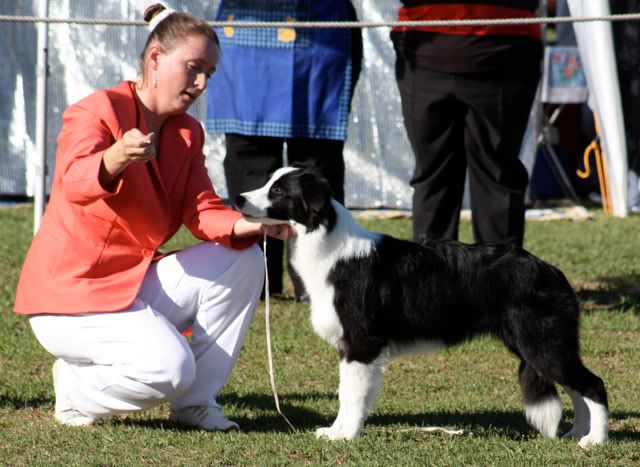 Billy: